Istanbul, formerly known as Constantinople and Byzantium is a transcontinental city with centuries of history. Lying strategically around the Bosporus strait, she has seen a lot of war and had her owners change multiple times. Sitting on the silk road, I am sure the stones of this city have stories to tell of the bygone centuries. This evolving city is also home to great architecture which remains as a proof of her illustrious past. Within a short radius, one can see Byzantine, Ottoman, Greek and Roman structures. Hagia Sofia, Sultanahmet, Cisterns and Topkapi Palace are some examples of this. All this made Turkey and Istanbul an obvious stop in my journey.
Getting to Istanbul
I flew to Ankara from Amman, Jordan and then headed to Istanbul. Though there are direct options, I was lucky to spot the cheapest route which included a high-speed train journey. Upon arriving in Ankara in the late evening, I boarded a city bus to my hostel. Ankara felt like any other capital city. Despite disembarking past sunset, I did not feel uncomfortable walking to and around my hostel. Though I barely was in Ankara for a night, I made some great friends at the hostel.
The next morning, I decided to start early and walk to the train station which was about 3 km away. Thanks to the half hour walk, I was able to see the regular hustle and bustle of a weekday morning. Ankara train station is quite a modern building and looks very new inside. I had pre-booked a seat on the high-speed train from Ankara Gar to Pendik. The train took me through beautiful vistas before reaching Pendik in about 4 hours. Pendik is 25km to the south of Istanbul. Since March 2019, the train has been extended to run another 20km to Söğütlüçeşme, in central Istanbul.
My parents were going to meet me in Istanbul and continue traveling with me for a couple of weeks. Thus, I was in a hurry to get to my guesthouse that instead of exploring public transport options I chose to take an Uber. Despite reading about there being some opposition to Uber in Istanbul, I did not face any issue. It took me nearly two hours to get to my guesthouse close to Sultanahmet Square (Sultanahmet Meydanı). I had just enough time for a late lunch before my parents joined me! Staying close to the Sultanahmet Square, we were able to take a late evening walk to admire all the historic structures.
Hagia Sofia
The next morning, after an early breakfast, we headed straight to see the epitome of Byzantine architecture – Hagia Sophia (or Aya Sofia). As with most tourist attractions, we entered Hagia Sofia right at opening time. This majestic structure, considered the epitome of Byzantine architecture, originally built as a cathedral in the 537 CE, changed ownership several times. Initially a Byzantine Church then a Roman Cathedral, it was converted into a mosque after the fall of Constantinople to the Ottoman Empire. It was then reopened as museum from 1935 to July 2020. While we visited, it was still a museum. Now, it has been reinstated as a functioning mosque.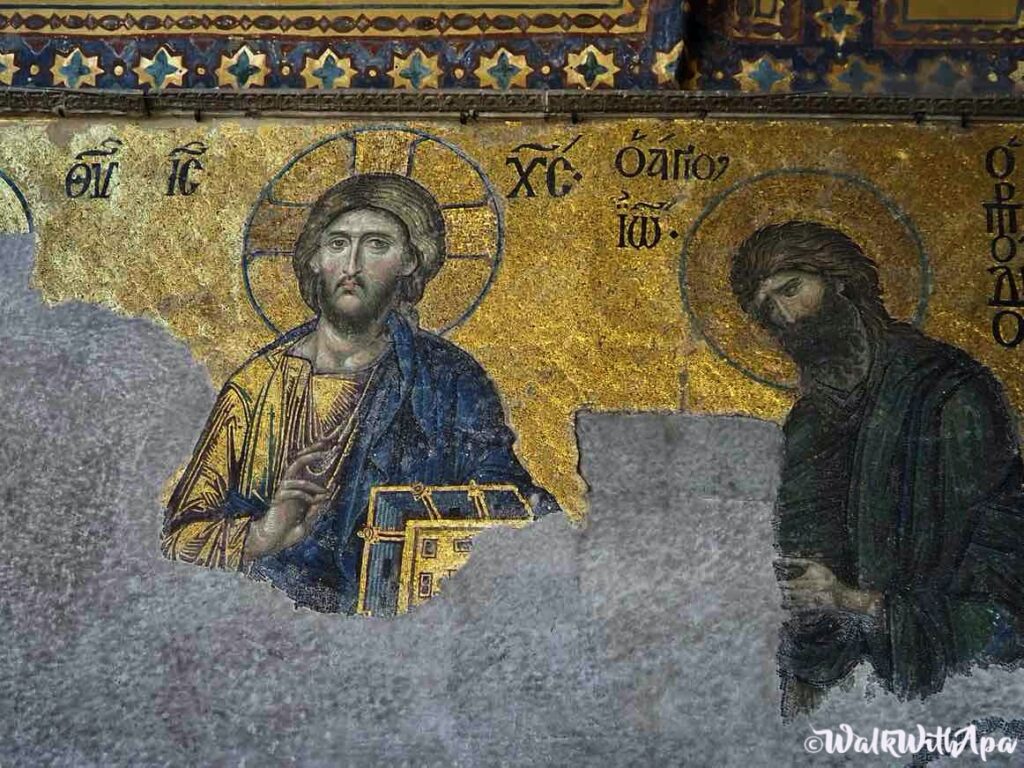 The structure has been restored several times due to fires, earthquake and wars. If walls could speak, I am sure there will be very few monuments that can tell more exciting stories than Hagia Sophia. Mosaics, a hallmark of Byzantine Empire are in abundance in the upper and especially lower galleries. We were able to admire this intricate work despite some destruction. We were able to thoroughly explore the structure and head out by 11am, around when the crowds started pouring in.
Basilica Cistern
After admiring this massive structure, we went to Basilica Cistern, the underground water receptacle which is right across the street. This large cistern was a part of the many cisterns underneath the city. Constructed in the 6th century, the cistern continued to provide water till the 17th century. The columns supporting this structure have been repaired multiple times and make a great sight. Despite being underground, we did not experience any discomfort. Walking inside this large cistern with a capacity of eighty thousand cubic meters, is an experience like no other.
Sultanahmet or Blue Mosque
After lunch and enjoying some delicious Baklavas, we waited for the namaz to end to visit Sultan Ahmet (Sultan Ahmet Camii) or the Blue Mosque. Being a mosque, we are expected to dress conservatively and have a head covering on. It is possible to borrow appropriate clothing outside the mosque. I always carry a scarf on me and hence didn't have a problem entering the mosque. This is one of the few very mosques I have entered. The mix of Byzantine and traditional Islamic architecture is very evident. The interior of the mosque with its ceramic tiles is very majestic. We spent some time admiring the beauty before heading back to our room.
Bosporus
In the evening, we walked on the banks of Bosporus till we could see the Bosphorus Bridge. Being at this continental boundary and extremely strategic point for centuries, I began to think back about all the ships and people that passed by. Walking back, we took a tram to the Sultanahmet Square and capture photos of Hagia Sophia illuminated at night.
Topkapi Palace
The next morning, we went to Topkapı Palace at opening time to avoid the crowds. Built in the 15th century, it served as the main building for the Ottoman Sultans. The once "New Palace" which housed important members of the Sultanate is now a museum. The Ottoman-style harem and courtyards of this palace are best explored early. For those fellow jewellery lovers, the museum shop has a very unique collection!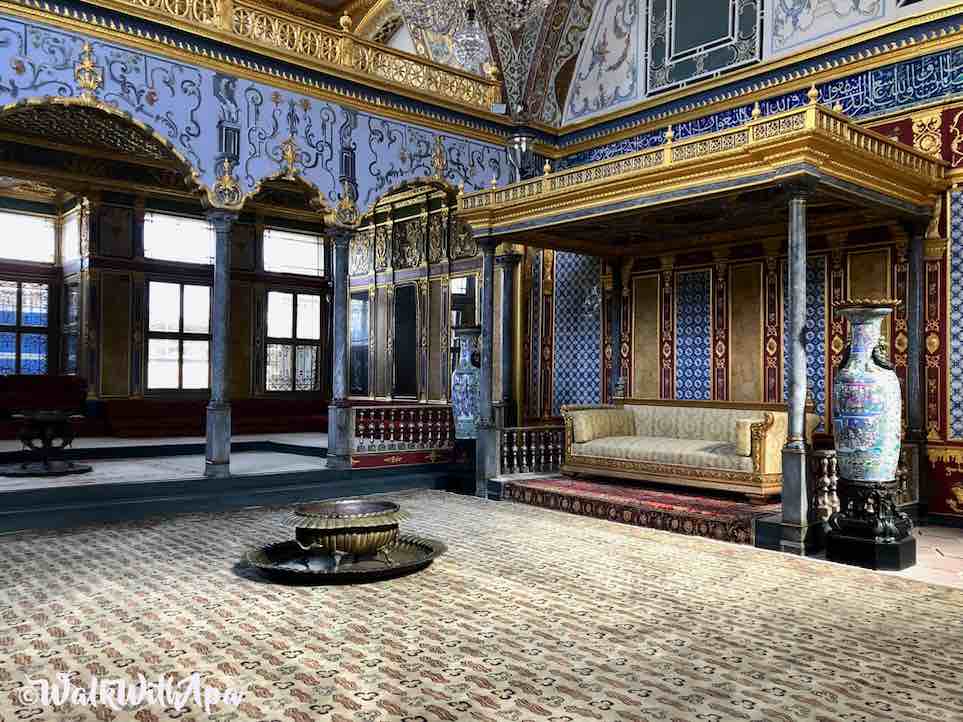 Shopping
Of course, no trip to Istanbul is complete without visiting the bazaars. We chose to walk to the Arasta Bazaar in the Sultanahmet Square over going to Grand Bazaar. The market did not disappoint any of us. Later in the evening, we headed to the airport to get on a flight to Kayseri.
Final Thoughts
This city with her long history and beautiful architecture left a deep imprint in me. Despite having read so much about her and spent decent time with her, she has a certain charm that pulls me back. It is one city no number of images can do justice to. The Hippodrome or now the Sultanahmet Square is the kind of place I can spend any number of evenings at. It's also a great place to meet people from all over world; maybe that is one thing that hasn't changed in all these years.
Visited: Sept 2018