The first time I read about Jordan, especially about Petra, was when I was ten. Agatha Christie introduced me to Petra through her 'Appointment with Death'. Hercule Poirot solving the case of Mrs. Boynton in the very short time he had, imprinted itself in my memory. As I kept learning and reading more about world history, Petra started climbing up on my travel list. These strong sentiments and proximity to India made Jordan the first stop in my backpacking trip across Middle East and Europe.
Although I was confident to travel solo in Jordan, my parents were not convinced about sending their only child by herself over there. After multiple discussions and to soothe their apprehensions, I decided to join a tour to Jordan alone and continue the rest of my journey by myself. I also negotiated an extra two days with them to explore the capital, Amman by myself. I, who had always been vocally against traveling with a tour due to inflexible itineraries and inflated costs, was in for a pleasant surprise!
Planning
My parents chose Thomas Cook India and Cox and Kings India, since those were the only two, they personally knew about. Eventually, I realized that, not many Indians visit Jordan and the tours need more than one person to operate. Thankfully, after waiting for not many days, the odds were in my favour. Thomas Cook informed me that I could join a group departing on the exact day I wanted to commence my travel. It was a strange experience for me, not having to do any research on the place and its safety. The tour group would have a driver throughout the trip and local guides at each site. I booked my flight to Amman and packed my bags.
Jordan offers visa on arrival to citizens of most nations. One can also get the Jordan Pass, which includes the visa and entrance to Petra. In my case, my agent arranged for the free tourist collective visa, which is offered to tour groups. I landed in Queen Alia International Airport, Amman and was able to meet my agent right before the immigration counters. He took care of everything in less than five minutes. This visa was stamped on my passport and an official paper that the company provided containing details about my stay.
Jerash
Since I reached my hotel quite late in the evening, I decided to stay in. The next morning, I met my fellow travellers and our driver for the entire tour. After a brief city tour, we reached Jerash. I expected the site to be filled with tourists considering it ranks high on the size and well preserved ruins list. Surprisingly, we had the colossal site to ourselves. Walking along the Cordus Maximus, the colonnaded street with clear chariot marks and the marketplace transported me back in time. The Temples of Zeus and the Temple of Artemis and the South and North Theatres reminded me of the glory of Greco-Roman World. A short visit to maze-like Ajloun Castle, made me recall a game I used to play as a child – Wolfenstein 3D.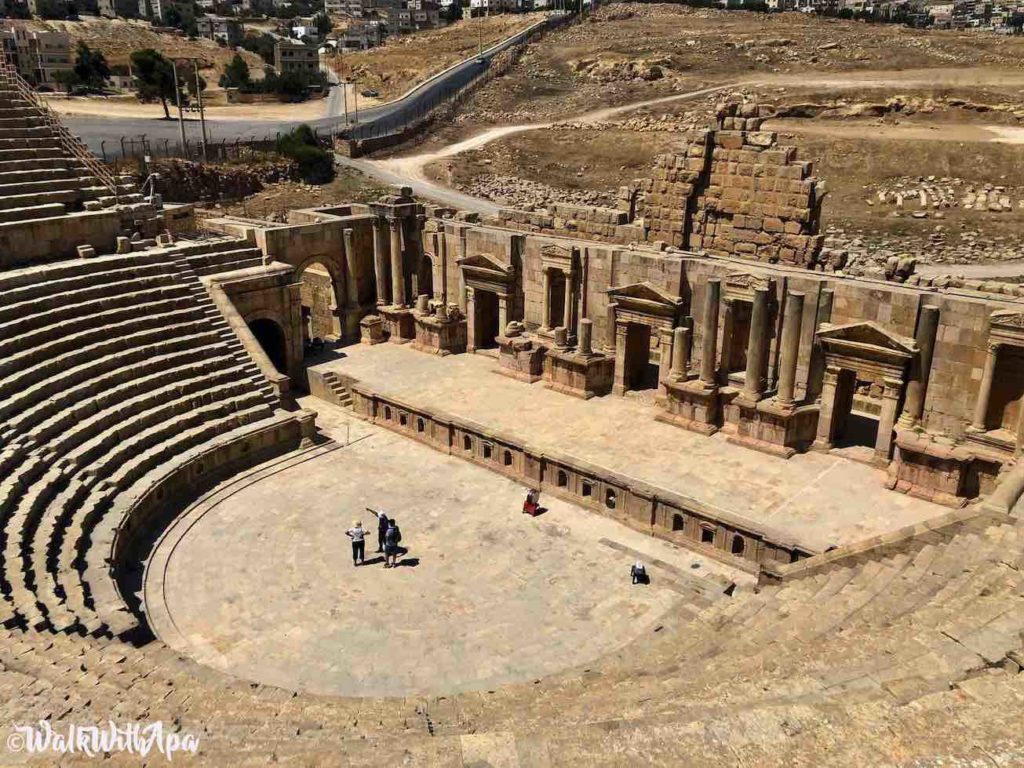 Dead Sea
En route to Dead Sea, I was able to buy a local SIM from Zain mobile which enabled me to reconnect with the current world. I had high expectations from Dead Sea, considering all the awe-inspiring photographs I have seen since my childhood. I was a little disappointed upon reaching the Dead Sea. A mistake I made which led to the salt infused water in my eye, left me scarred to re-enter. Despite that, I still went back to the Dead Sea to capture the sunset and relax at sunrise. Staying at a resort close to the sea, I chose to relax at the sea instead of trying to find tours to other attractions.
Little Petra
After two nights at the Dead Sea, we headed to Petra. Along the way, we stopped by at Mt Nebo and Madaba. The mosaics and the art of making intricate designs with perfectly cut stone was inconceivable. Instead of the faster desert highway, our guide took us through the more scenic Jordan Valley Highway (Highway 65) and the ancient Kings Highway (Highway 35) to get to Wadi Musa.
Late in the afternoon, we reached the Nabatean city of Little Petra. There were very few tourists in this tranquil site. I thoroughly enjoyed exploring every nook and corner of this ancient city by myself. Upon checking in to our hotel at Petra, I took a late-night stroll to the entrance of the World Wonder with a friend I made.
Petra
The long-awaited day was finally here, and it was time for me to visit my fourth New World Wonder. I got the 2-day pass instead of the single day ticket that was included in my tour. One can reach the Treasury on foot, by the official horse driven carriages or golf carts. Ethically, I choose to never use an animal as a mode of transport. That and the desire to explore slowly, made me walk to the Wonder. Studying the many caves and ruins, I reached the entrance of the Siq.
Walking through this massive geological fault, surrounded by the sandstone was exhilarating. I was awestruck by the first glimpse of the Treasury or Al-Khazneh. Petra had already proven to be beyond my expectations. Leisurely, I walked around to explore as much of this once thriving trade centre as possible. I waited until close to sunset to head back. My only companions while walking at sunset in Siq were golden hues on the canyons and occasional locals.
Wadi Rum
I started early the next morning to reach The Treasury before sunrise. Abandoning my plans to explore more of the site, I chose to sit and stare at the grandiose. I would have loved to spend days just exploring this over two thousand years old city. Due to our fixed itinerary, I had to walk back out soon. From Petra, we drove up to Wadi Rum. I love natural open spaces and was instantly hypnotized by the expansive stretches of fine sand. Our guide drove us around the massive dunes and stopped often for us to capture a fraction of what nature had to offer. We glamped the night amidst fun and frolic at a camp in Wadi Rum.
Amman
The next morning, we headed back to Amman on the Desert Highway to end our tour. I had added two more days to my itinerary to explore Amman on my own. Later that evening, my newly made friends and I took to the streets of Amman to enjoy some local vegetarian fare – Falafels, Hummus, Phol, Pita and the lip-smacking Kanafeh. I spent the next morning visiting art galleries. The following day, I had the choice to explore Amman on my own or go with my friend to visit her friend and family in Irbid.
Irbid – Visiting Locals
Grabbing on to the opportunity to meet locals, I chose to go to Irbid. We took a bus from Al-Shamal Bus Stand. I was treated to great Jordanian hospitality and food. Irbid also gave me the chance to see the Jordan-Syria border. Leaving my newly made friends, I went back to Amman with a promise to visit again. From Amman I headed to the capital of Turkey, Ankara with a lot of memories
Final Thoughts
Jordan is on the top of my countries I want to revisit list! The unique places, friendly people and delicious vegetarian food reinforced my love for the country. I wish to spend at least a week more to explore Petra and Wadi Rum and a few more hiking in Wadi Dana. Maybe someday, I will be adventurous enough to hike the 650 km Jordan Trail.
Visited: Sept 2018