Though I visited Jordan as a part of a tour (why tour?), I separated from the group to explore Petra by myself. You can read more about my experience at Petra here. Below are some tips to explore the site. My fellow female traveller, be aware of the romance scams at Petra to stay safe while travelling solo.
Number of Days
For anyone who is a history, architecture or open space lover or anyone planning to hike more than one trail, I recommend a minimum of two days. If and when I go back to Petra, I plan to spend three full days at the site.
Shoes
I recommend hiking shoes or good walking shoes, especially if you are planning to go to the trails. I wore my hiking shoes and was comfortable for the 9 hours I spent on the first day.
Water
I try to avoid buying plastic water bottles as much as possible. I carried three litres of water on me but that was barely sufficient. There are very few shops that sell water and are rarer on the trails.
Headwear
A cap or hat or just about anything to keep your head covered and cool. Most areas in Petra are uncovered. I wore a cap and a multifunctional bandana to keep myself protected.
Clothing
Having lived in tropical climates, I am used to wearing loose-fitting light-coloured full sleeved shirt and full pants in hot places. Such clothes help you a lot more to stay cool compared to shorts and tank tops. I wore a full-length hiking pants and a cotton t-shirt with a full sleeve sun protection shirt.
Photograhs
It is best to reach the Treasury as early as possible to get photographs without a crowd. Though the number of tourists reduce towards sunset, I found my photographs around sunrise to be better.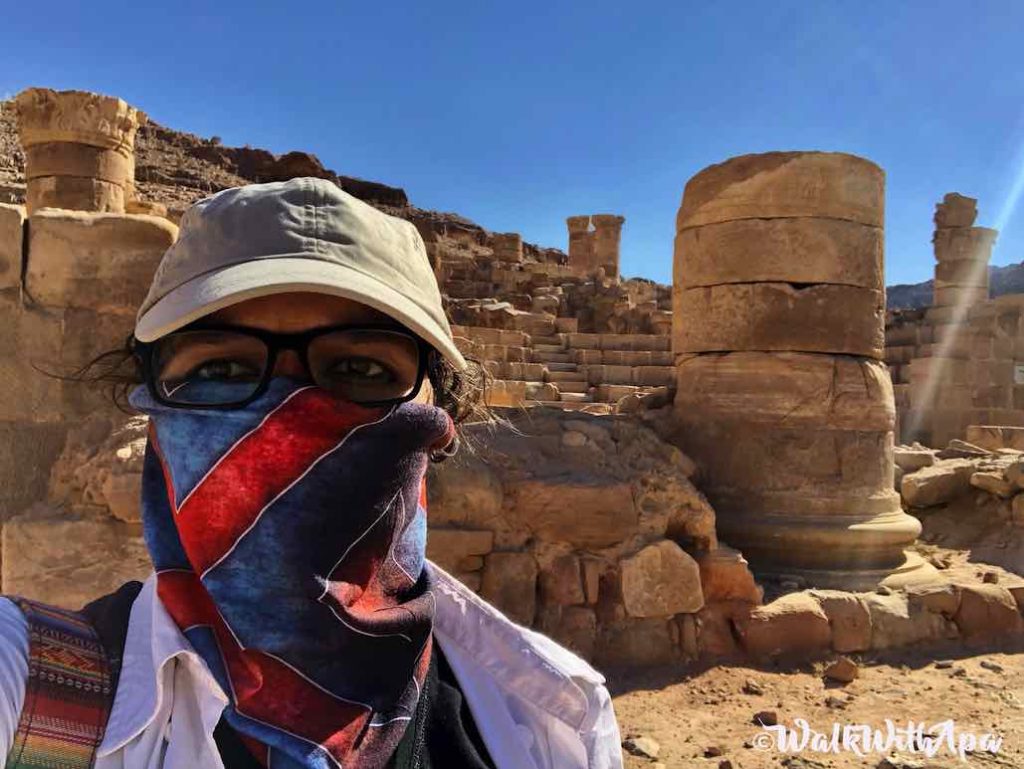 To get more tips and information about Petra, you can visit the official website.
Petra Romance Scam
Since I didn't plan my trip and was a part of a tour group, I heard quite late about the romance scams at Petra. Our driver mentioned about them as we left Petra and were on our way to Wadi Rum. This is something I wish I was told about earlier. My fellow travellers mentioned how the driver was nervous at Little Petra since I was taking time to exit.
I hiked and walked around by myself, in areas with no other tourists but was never bothered by scammers. Only our guide at Petra was persistent at asking me for dinner but I flatly refused him; as I would to any stranger. Possibly, I was not approached due to the way I carried myself. It may have also been because I clearly looked not white. I don't want to scare anyone about travelling solo in Jordan. This is only to caution you about the scam. I found plentiful articles when I later searched for Petra Romance Scam.
Personally, I don't think Jordan is difficult to navigate for the solo traveller. I always felt safe even while exploring by myself. As always, one must employ common sense and stay on guard when travelling alone anywhere. The next time I visit Jordan, I plan on travelling solo.
Visited: Sept 2018