I have an ever-growing and never-ending bucket list of destinations. When short on time, I make quick trips to most convenient location on my bucket list. When time is not a problem, I add places around my favored destination to my itinerary. Vietnam was one such destination for me. Cambodia; especially the temple complex at Angkor Wat has been at the top of my list for a very long. Since I had sufficient time, I decided to add Vietnam to my itinerary. What could have been a short trip to Cambodia soon morphed into a two-month backpacking adventure in the region. After Vietnam, I was to rendezvous with my family in Cambodia, dates for which were not flexible. This time constraint led me to fly around the country instead of overlanding.
I arrived at the Nội Bài International Airport in Hanoi from Luang Prabang, Laos to be welcomed by a non-existent immigration queue. Obtaining Vietnamese Dong and a local sim card at the airport was hassle-free. Unfortunately, the ATMs at the arrivals hall were not working when I landed and I had to use a currency exchange. Due to the low value of Dong against the USD, I ended up with a thick wad of currency.
Hanoi
Hanoi was no exception to my love for public transport. I got on the express bus from the airport to the old city. There are other public buses which cost lesser but take longer from the airport. After a 30 minute bus ride and a 15 minute walk in narrow and crowded streets, I reached my hostel in the middle of the Hanoi old quarter. The chaos in Hanoi was no different to what I was used to while growing up in Mumbai, India. My charming little hostel, despite being on a busy street was nice and quiet.
Hanoi's history goes back a few centuries. It has been an important cultural centre and old capital. Not many of the city's ancient structures have stood the test of time. Văn Miếu (Temple of Literature) – Vietnam's oldest university is among the few exceptions. Established in 1070, this complex took me back to a bygone era. Coincidentally, a large group of enthusiastic school children were visiting at the same time and used the opportunity to practice their English with me and other tourists. Taking a walk on the roads of the old quarter to the Trấn Quốc Pagoda and Ho Chi Minh Mausoleum gave me a quick glimpse into Hanoi's harmonized past and present. I spent most of the photographic golden hours unwinding at the Hoàn Kiếm Lake; close to old quarter.
Hạ Long
From the busy streets of Hanoi, I got on a bus to reach the calm and empty Hạ Long. I choose to stay in the actual town and not in the resorts close to the ferry terminal. The contrasting deserted empty roads was a welcome change. The slower pace gave me more time to meet and chat with locals and fellow travellers. While in Vietnam, there was no way I would miss visiting the UNESCO World Heritage Site of Ha Long Bay. A day cruise around these monolithic limestone islands lived up to my expectations. The cruise boat did wonderfully well catering to the diet needs of me and my fellow passengers. The views in this majestic site are best enjoyed from the upper deck of the boat and kayaking where possible. With the ocean and sky as the backdrop, the setting sun leaves you wanting for more.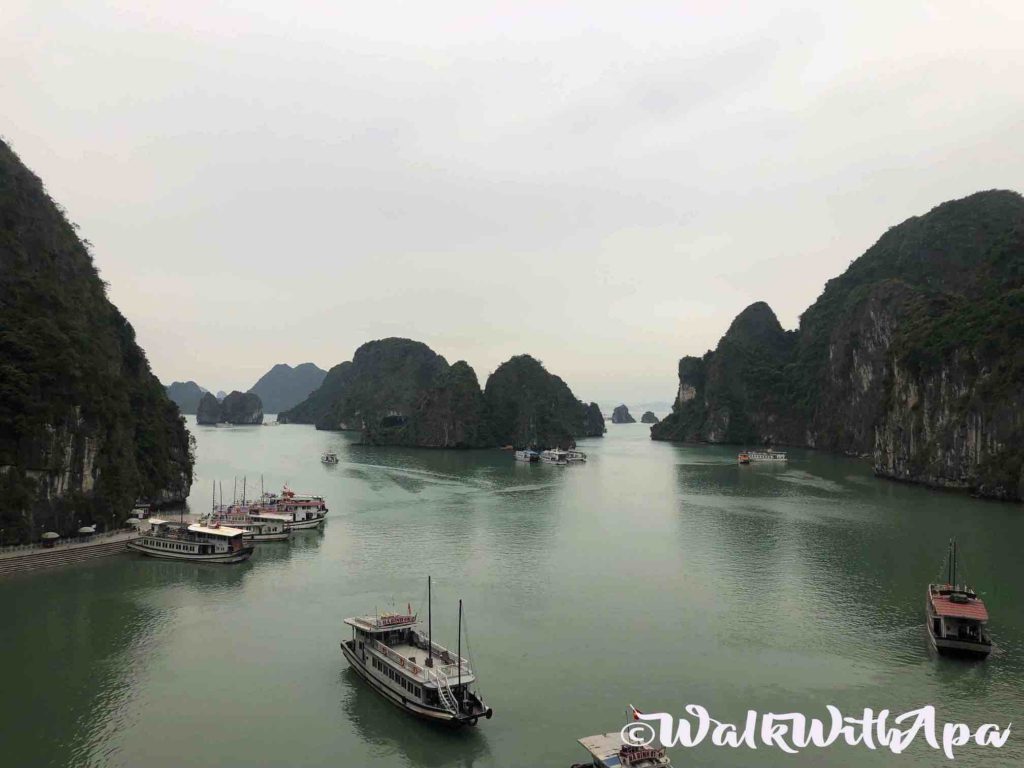 Hội An
Despite Vietnam's decent train network; it's odd timings and long journey times did not work in my favour. Hopping on a plane at Hai Phong, I got off at Da Nang to head straight to my guesthouse in Hội An. Hội An, now a world heritage site is also a well preserved old trading port. This small city had one of the most vibrant night markets amongst those I have visited. The colourful handcrafted lanterns are something you can't miss.
I found the best way to travel around this city was on cycles and motorbikes. Starting early in the mornings, I could avoid the crowds at the rice fields and beaches. Being an extremely popular tourist place, one can find a myriad of cuisines here. I spent a day, visiting the Lady Buddha and Marble Mountains, both near Da Nang.
Ho Chi Minh City
Bidding farewell to my lovely host at Hội An, I flew down to Ho Chi Minh city. A bus ride and a short walk got me to my hostel in this large city. I walked around the Ben Thanh market, Saigon Central Post Office, Notre Dame Cathedral, the City Opera House and the Ho Chi Minh Statue to get a feel of the city. As you walk around, you can see the remnants of French colonialism through the architecture.
Củ Chi Tunnels
The next day, I opted to get on the public bus and head to the Củ Chi Tunnels. The bus allows you to get to the Ben Douc site instead of the popular Ben Dinh site which is preferred by group tours. Interestingly, I ran into a few more adventurous travellers heading to Củ Chi on the same bus. After a bus transfer, we got off right in front of the site entrance. You can read more about my experience here. After exploring the tunnels I decided to head to the War Remnants Museum. The experience in the tunnels and the exhibits at the museum are a grim reminder of the impact of war. My love for art took me to the National Museum of Fine Arts the following day. With hardly anyone else visiting, I had the entire museum for myself.
Leaving Vietnam
From the capital of Vietnam I was headed to the capital of Cambodia – Phnom Penh. Finally, the distance was short enough that I had the time to do an overland crossing instead of flying. Anyone who has crossed friendly borders by land, will agree about the convenience of immigration on land versus air. The best thing for me – carry as much water and milk as I want! The bus goes through the Moc Bai-Bavet road crossing, which accepts e-Visas on both sides. The whole journey along with immigration took about 7 hours. Crossing the border ended my beautiful trip in Vietnam. You can read more about my experience here.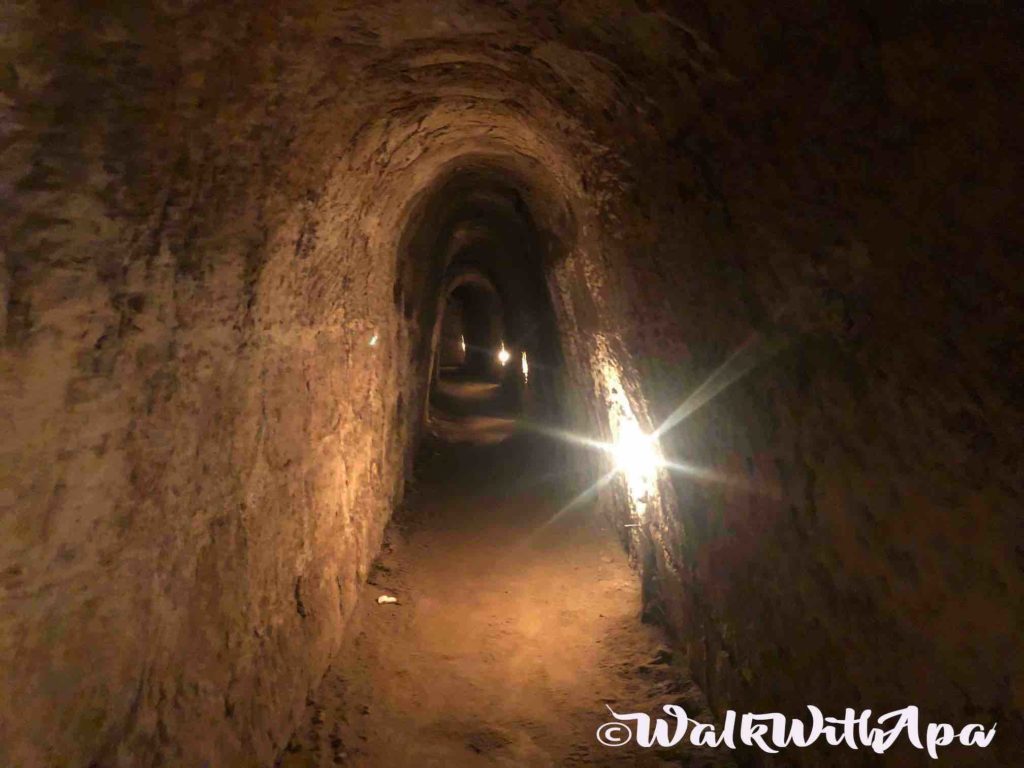 Food
Contrary to popular belief and unlike some other Asian countries, vegetarianism is wide spread in Vietnam. It is very easy to find Chay or vegetarian eateries. While walking on the streets, there is no way to miss the many roadside eateries with their low stools and tables to eat. I could enjoy some local vegan fare – Bánh Mì ( sandwiches), Phở (noodles with broth) and Chè (traditional desserts). The food here is quite inexpensive. A healthy sumptuous meal is easily available for about 2 to 3 USD.
Final Thoughts
Language was not a barrier in all the places I visited. English was spoken quite widely. If not, menus in English were always available. Moto-taxis are present at every nook and corner. The drivers are not bothersome but do ask tourists if they need a ride. As for the markets, do have some fun haggling!
Visited: Mar 2019