My fascination for Japan started when I was studying World History in school; especially the second world war. Hearing about this small island nation getting attacked by two nuclear bombs but building itself back up since then, left me awestruck. The love for Japan and Japanese culture grew as I started watching anime in my high school. The language, the creativity and technological prowess drew me to that nation.
After years of dreaming, I finally got a chance to visit the nation. What highlights this visit was it was my first longest solo trip abroad. Till then my solo travel was only limited to domestic and international limited to just a weekend. Since long, I had been debating which was the best season to visit – the famous sakura hanami taikai (cherry blossoms viewing) in spring, the intriguing Natsu Matsuri(summer festivals) time with their fireworks or the time of Momiji(Red Japanese Maple Tree) in autumn. The debate narrowed down to Sakura or Momiji. I decided to go in autumn, convincing myself that I could always go back to see the cherry blossoms.
Planning
Once the dates were finalized, it was time to get the Japanese visa. Applying for the visa is pretty straightforward and can be done through the visa application centers or authorized travel agents. The Japanese visa is one of the cheapest for Indians with the fees being only 510 rupees. The Japanese government is planning on introducing eVisa in 2020, which will allow us, Indians as well to get the visa online.
It's important to plan the itinerary in advance to submit it along with the visa application. Though it can be changed once the visa is approved; I am the kind of person that needs a concrete plan. I wanted to see as much of Japan as possible in the 10 days I was going to be there. That meant I could only pick not more than a couple of days per city.
Wanting to experience a myriad of Japanese culture I picked Tokyo for its modernity, Kanazawa for its feudal background, Kyoto for its temples, Himeji for its castle and Nara for its nature and temple. Picking 3 different corners of the country meant a lot of travel – most importantly a lot of opportunities to take the famous Shinkansen(bullet trains). Despite some restrictions I decided that the JR pass made more sense in my case.
JR pass is available online and through authorized travel agents. It allows free unlimited travel across the Japan Rail travel network for a specific number of days – in my case 7 days. The pass also allows you to reserve a seat on shinkansen in advance, the locals or single ticket holders need to pay a fee for this. JR pass is worth the cost only if you are going to be traveling on multiple bullet trains. With my plan set, visa done and JR pass in hand it was time to head to Tokyo.
Tokyo
Tokyo's Haneda and Narita and Osaka's Kansai are the major airports for international tourists. I landed in Narita in the evening and got a single use train ticket to reach my hotel at Asakusa/Kurumae. Since Japan is popular for its offbeat stays, my first hotel was a cross between a hotel and hostel. My "room" was a bed in three walls and shutters on the fourth. A small personal tv, secure underbed storage and wash and pajama kit was provided. It was a typical Japanese business hotel where people who come to work to Tokyo stay. A short walk away was the oldest and most significant temple in Tokyo – Senso-ji. Since it was fall, the sun sets quite early and I was able to see the beautiful temple in the night lights.
Kanazawa
The next day, I took my first bullet train and headed off to Kanazawa in Ishikawa Prefecture. The train whizzed past some very beautiful scenery. At Kanazawa, I stayed at a boutique hostel very close to all the major attractions. Walking through the traditional Higashi Chaya District with teahouses where geisha perform and the former samurai district of Nagamachi take you back a couple centuries to the Edo period. Kenroku-en considered one of the three most beautiful landscape gardens in Japan should not be missed. Being an early riser, I was able to visit the garden early when it is practically empty and also free of charge. The beautiful autumn foliage, the ponds and walkways are the best start one can get for a day.
Kyoto
After a couple days in Kanazawa it was time to head to Kyoto. This time the route doesn't have a Shinkansen so I had to board a limited express thunderbird which gave me yet another glimpse into rural Japan. At Kyoto, again I was staying in a traditional guesthouse like hostel. That way I could enjoy having roommates and stay in tatami room for a fraction of a ryokan(Japanese traditional inn). I spent the evening post sunset at UNESCO World Heritage temple, Kiyomizudera to be able to see the special autumn illumination. It does get pretty crowded here.
The next day I got a Kyoto bus pass and went to Kinkaku-ji also known as the Temple of the Golden Pavilion. It is best to get to the popular places as early as possible to avoid the crowds. Next up was one of the most photographed places in Kyoto – Arashimaya Bamboo Grove. Walking through and listening to the sound of the tall bamboo grove is an auditory experience like none other. I ended the day trekking up through the mesmerizing vermillion tori gates of Fushimi Inari. The shrine does get crowded but the higher up the mountain you go the higher chance to take photos without anyone in the frame. This hike is more mystic close to sunrise and sunset.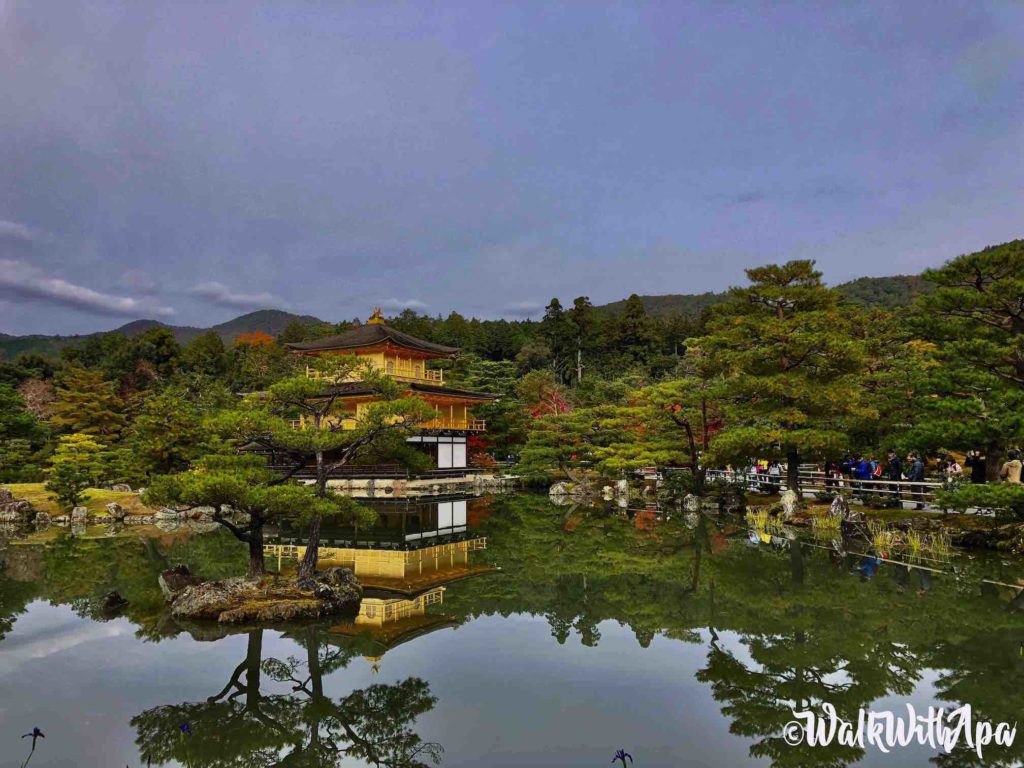 Nara
Soon it was time to head to Nara. I picked Nara as my base to be able to stay in the Nara Deer Park and enjoy some time away from civilization. Again, I stayed in a hostel where I made some great friends who joined me to explore park in the dark. I started very early the next morning to see the temples close to my hostel and to see the deer with their fawns. Later I went off on a day trip to Himeji; 2 hours away by bullet train which my hostel owner thought was crazy. I really wanted to see a Japanese castle and Himeji was my pick. It is one of the most spectacular castles in Japan and the very few remaining in their original condition.
Being close to Todaiji, I was able to get to the temple before the hoards started pouring the next morning. I have been to many Buddha temples but all pale in comparison to the sheer size of the grandeur of the Great Buddha Hall at Todaiji. There are a few more smaller temples in the area along with activities that can be done inside the Nara Deer Park. After my blissful days in Nara, it was time to head back to Tokyo. The bullet trains between Kyoto and Tokyo cross Mount Fuji. It is a good idea to reserve a window seat in that direction to see the snow-capped volcano. This time I found an exquisite female only hostel unlike the female dorm rooms at others.
Back to Tokyo
After spending days exploring the past, it was time to hit the modern areas of Tokyo. It was time to walk and shop in Ginza, Shinkuju, see the infamous and iconic Shibuya crossing and see the electronic and anime and manga stores. Japanese stationary is definitely something to checkout especially the pens and inks. Since I had a free morning before my flight, I headed to Kamakura to see the Buddha and the Pacific Ocean. Being autumn, it was too windy and cold to get into the ocean.
Food
One cannot talk about Japan without talking about the food. The food here is mostly based on locally sourced seasonal items. Being a vegetarian, I was apprehensive about finding food. It was extremely easy in the big cities to find vegan food. Knowing how to say you are vegetarian in Japanese of having a food card listing what you cannot eat goes a long way. For the more remote places, department stores and convenience stores(kombini) usually carry onigiri and all types of sweet buns.
Translation apps can help you read the labels or have a conversation if the store clerks are not able to speak English. Most Japanese desserts are vegan and worth trying. The beautiful presentation makes it very hard to eat them. The omnipresent vending machines are a lifesaver too. I was able to get a nice steaming hot chocolate at 5am in Nara when there was nothing else open or nearby.
Final Thoughts
There are really good apps to allow you to plan your public transport across Japan. Staying in hostels, capsule hotels and guesthouses give you an opportunity to get a glimpse of the local life and to interact with locals. The locals are very friendly in general and helpful. Some are interested in India and will hold a long conversation with you about it.
Visited: Nov 2017